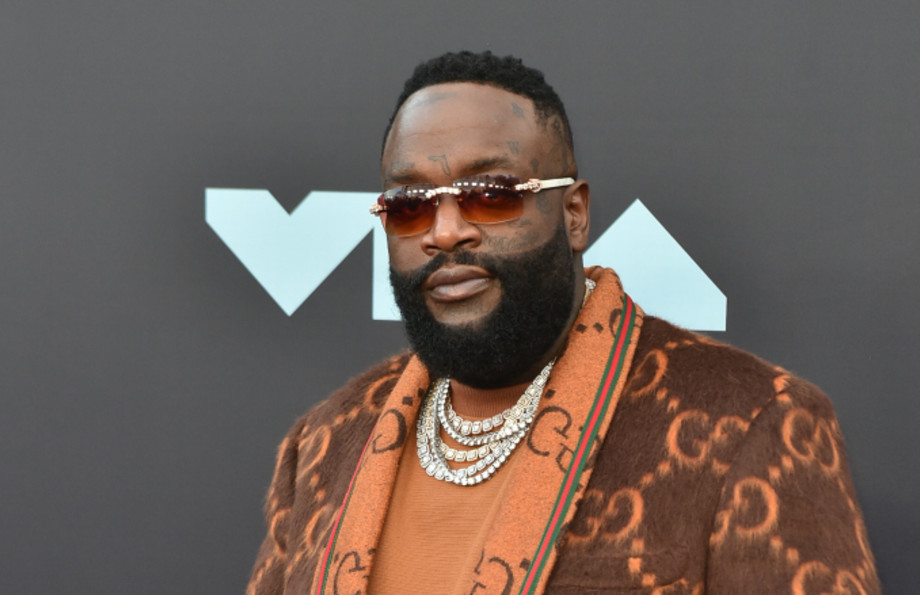 Yes loyal reader, you're reading this right, a Rick Ross Project. On Wayne's blog? Say it ain't so, lol!!! You're on the right blog. Now, I know I've talked about this on the blog before, so with that said, I'll go into the bit of backstory before we head into the project itself. When "Hustlin" and "Push It" were in heavy rotation on radio and TV back in 2006-2007, I wasn't too impressed with what I had heard honestly (I mean I thought those songs, and Ross specifically, were ok, nothing more). Then, the T-Pain featured "The Boss" came and it was right around that time when I heard the rumors that he was a Correctional Officer in Florida prior to his hip hop career. Now, this is where it started for me. At first, when the photos surfaced online, he denied it was him, but when the pressure got tight (usually it does in situations like this), he admitted that it was him. I did often say that had he admitted to everything without the denials, I would've felt a different type of way about him at this point, but for a long time, I had nothing positive to say about him because it took the pressure for him to admit the truth. Continuing on, as he continued to blow up over the next few years, I had what some would call a "love/hate relationship" with the guy, still calling him out on his past but at the same time acknowledging the good music when I heard it. It wasn't until last year when I finally eased up on him, so much so that I ended up copping his discography in one fell swoop. So, what changed? How could I go from being musically against this guy in every form to accepting him? Those questions and more will be answered throughout this project! I'll be covering all of his studio albums from 2006's "Port Of Miami" to 2015's "Black Market." As of this post, his 9th album, "Rather You Than Me", has yet to drop (it's slated for a release in 2017), however, if it comes out prior to completion of this project, it'll be added in real time. Also, one caveat: I will not be covering any of the "Self Made" compilations or his mixtapes. Speaking of the latter, I'll talk about those briefly, but they won't be a major part of the project. I'll also rank and rate each album throughout the project as well, which will begin after album number two. So, to begin, we head back to 2006 with Ross' debut, "Port Of Miami."
Release date: August 8, 2006
Before I begin the project with Ross' Def Jam debut, I got a brief story on this one. In 2010, I listened to this album twice and even though I liked a couple of songs, it wasn't impressive to me overall (and those were objective listens too). So, 6 years after the fact, will it hit me on the third listen or will my opinions remain the same? We shall see.
"PORT OF MIAMI" GUESTS
Dre
Akon
Mario Winans
Rodney
JRock
Lyfe Jennings
Lloyd
Jay-Z
Young Jeezy
Triple C's
Lil Wayne
Brisco
"PORT OF MIAMI" PRODUCTION
J.R. Rotem
Cool & Dre
The Runners
Akon
Giorgio Tuinfort
C. Fournier
Kenny "K. Luck" Luckett
Jazze Pha
Mario Winans
Miykal Snoody
DJ Toomp
JRock
Big Reese
Jasper Cameron
J. Venom
DJ Khaled
1. "Intro"
This K. Fox led intro leads us right into.....
2. "Push It"
First off, mad props to J.R. Rotem for the ill sampling of Paul Engemann's "Scarface (Push It to the Limit)" and of course with it being from "Scarface", my #1 favorite movie of all time, the connection is instant. This was the album's second single and in addition to the clear influence from "Scarface", as noted by genius.com, Ross "demonstrates his rise in wealth and position by doing what he has to do to make it to the top" and after putting in work for 12 years at this point, the term "push it" is more than applicable in Ross' case, definitely a rags to riches type story. Good song.
*4 out of 5*
3. "Blow"
When it comes to designer jeans, bottles of fine wine, nice cars, you know that means "more money to blow" for Ross and the crew, nothing more to it than that. And trust me, as we continue through this project, this will NOT be the last time we hear about money and ALL the things that come with it. Continue to stay tuned, lol.
*3.5 out of 5*
4. "Hustlin"
"Every day I'm hustlin!"
Not only was this the album's first single, it was also the song that led to Ross' huge deal with Def Jam. Back in 2006 going into 2007, you really couldn't go anywhere without hearing this song and I'm sure it was SUCH an anthem in Miami, and probably still is. Admittedly, some of what Ross says can be taken with a grain of salt, such as the claims of "dealing cocaine" and "knowing the real Noriega", but when you get past that, you can't deny the motivation this song provides in terms of "hustlin", especially when you put that motivation to work in a positive light. I also can't forget about The Runners' thumping, organ laden production that Ross simply excels on. Dope song here.
*4 out of 5*
5. "Cross That Line"
Ross, along with "hook assistance" from Akon (man, the latter had a knack for being featured on hard songs like this), comes off as one serious man with a recognizable gangster tone throughout. If you "cross that line", there will be consequences.
*4 out of 5*
6. "I'm Bad"
Just when I thought Ross was coming with a Miami style remake of LL Cool J's classic of the same name, he totally goes in a different direction almost as soon as the first verse begins. Ok, lol. A decent, apply titled song here, all things considered. (I must say that K. Luck's production was something that would've fit DMX more than Ross, respectively.)
*3.5 out of 5*
7. "Boss"
Everything that Ross does, and I do mean everything, lol, he does it like a boss, nothing more or less.
*2 out of 5*
8. "For Da Low"
Jazze Pha made some good tracks in his day, but had he NOT talked on any of his beats, EVER, I really would've been cool with that. Hey, I'm sure with all the paper Ross had at this point, he could cop whatever he wanted with the most ultimate of deals.
*3 out of 5*
9. "Where My Money (I Need That)"
Everything about this particular song would suggest that it was somewhat of a prequel to "Hustlin", especially when it came to The Runners' production, which again came with the organs but a little less thumping than the aforementioned "Hustlin."
*3.5 out of 5*
10. "Get Away"
Funny story: In an area I used to live in around the time this album dropped, my next door neighbor used to bump this often. With Mario Winans on the hook, this was a mellow joint for the ladies, not too soft for the fellas though. I like it.
*4 out of 5*
11. "Hit U From The Back"
Look at the TITLE of this and tell me you DON'T know who this song is specifically catered to and what it's about, I dare you, lol. EIther way, I didn't care too much for this one. Let's continue on.
*2 out of 5*
12. "White House"
Ross is in total control of the scene as he raps from the perspective of "callin the shots" in his own residence, a Miami White House that is. The underrated DJ Toomp comes through with a pretty good beat, but overall I feel this song could've been better than what we got, especially if Ross would've took the storytelling route.
*3 out of 5*
13. "Pots and Pans"
It seemed like Ross was taking a more introspective tone starting with the first verse, but the remainder of the song took the usual turn, incorporating the money/drug/cars/women talk. Had Ross continued with the introspection throughout this song (along with a better hook too), the results would've been different.
*3 out of 5*
14. "It's My Time"
Ok, The Runners came through with some more pretty good production and Lyfe Jennings brought a dose of soul to the hook. On the other hand, Ross' flow was so uninspired here that you'd have somewhat of a hard time believing him making a case that "it was his time", and while that may be true in some respects looking back and considering many songs before and since with the same theme, this one misses the mark.
*2.5 out of 5*
15. "Street Life"
"Ain't nothin' but the street life, that's money, cars, hoes, it's the only life I chose." These lines from the hook tells you all you need to know about this Lloyd assisted song, nothing more or less.
*3 out of 5*
16. "Hustlin' (Remix)
If you ask me, this remix should've closed the album. In addition, around this time in hip hop, usually you could tell how hot a song was if a remix came afterwards, and that's what we get here. Ross links up with Jeezy and Jay-Z for this one, with no shortage of braggadocios lines to be found.
*4 out of 5*
17. "It Ain't a Problem"
This one was more or less a showcase for Young Breed and Torch, representing Triple C's, whose verses were about what you would expect from them.
*2.5 out of 5*
18. "I'm a G"
Again, we have heard songs like this before (and in this case done better). Ross and guests Lil Wayne and Brisco bring nothing new or impressive to the table (and even though I'm not a Wayne fan, he's had better verses than this in his day). Forgettable.
*2 out of 5*
19. "Prayer"
12 years in the making, Ross, in his own way, not only stresses the importance of prayer, but also emphasizes how prayer itself is what led to the success for himself and others around him. A fairly good way to close the album (even if it may be deemed blasphemous by some), but I'm deducting .5. Why? Well, I feel in ANY song where you're talking to God or it's some form of a dedication to God, not matter what the case is, artists should never use curse words in these songs.
*3.5 out of 5*
Well, six years later, I find myself liking this one SLIGHTLY more, but that's not saying much. You can listen to Ross here and tell that even though this was his debut and he already had two hit singles under his belt, there still was room for improvement across the board, specifically in terms of his delivery and the production. Would that be recognized and realized when we head into 2008's "Trilla?" That question will be answered. Overall when it comes to "Port Of Miami", the true highlights here are both version of "Hustlin", "Push It", "Prayer", "Get Away" and "Cross That Line", everything else was rather hit and miss for the most part. It has been Certified Platinum as of July 2016. 3 stars.
Release date: March 11, 2008
Mannie Fresh
T-Pain
R. Kelly
EbonyLove
Trey Songz
Nelly
Avery Storm
Jay-Z
Lil Wayne
Young Jeezy
Trick Daddy
Triple C
Brisco
Rodney
J.U.S.T.I.C.E. League
Mannie Fresh
J.R. Rotem
The Runners
Bink!
Drumma Boy
Elvis "Blac Elvis" Williams
Toomp
Jean "J Rock" Borges
DJ Nasty & LVM
1. "Trilla Intro"
"I'm paranoid, it's too much paraphernalia/Public prosecutors got me preparin' for failure/Picture pimp, picture me pimpin' the pen/Wit all these pretty scriptures that I can pimp wit my pen"
Backed by some nice, thumping production by J.U.S.T.I.C.E. Leauge (referred to as the League from now on and we'll hear MUCH more from them during this project), Ross is a "made man" in true trilla form on this intro (and yes, musically, 2 years after "Port Of Miami", Ross is a made man here). Again, I normally don't rate intros, but I'm making an exception here. Very good start.
*4 out of 5*
2. "All I Have In This World"
Although Mannie was tolerable on the hook, I could've done without his words to start the song (and I had/have those same issues with Jazze Pha, DJ Paul & Juicy J, Lil Jon, etc, they DON'T need to talk on the songs they produce, just saying). Continuing on, this Scarface influenced track found Ross very energetic over Mannie's production and one song in, he sounds more inspired than anything on "Port Of Miami."
*4 out of 5*
3. "The Boss"
If I was introducing someone to Ross for the first time, this J.R. Rotem produced banger is actually the song I would mention first, as opposed to "Hustlin" and "Push It", respectively. Complete with T-Pain on the hook, himself making noise at this point, I feel this is one of Ross' signatures songs (surprisingly the album's second single) and I remember it receiving heavy radio and TV play at the time. This song exemplified Ross' key status as a "boss" and you couldn't miss it if you tried. Tight song.
*5 out of 5*
"Cause it's just another day in the life of the goddamn boss!"
4. "Speedin"
The only reason I can see this being the album's lead single was the R. Kelly feature and looking back, I don't ever recall hearing this song on the radio. And another question: why did Kelly have to have a brief verse during his guest spots with hip hop artists when it clearly wasn't needed? Him being on the hook was enough and even then I would put someone else in that spot or just not have him featured at all. Whew, let me bring it back, almost went into a rant there, lol. Big cars, big cribs and the like would have you living a fast life considering how those things would mark their territory on your bank account(s), lol. Decent song, could've done without the Kelly feature though.
*3 out of 5*
5. "We Shinin"
Ross sends this one out to those shinin' just like him. And speaking of shinin', Ross indeed shines over the Tower of Power sampled ("Love Bug") production provided by the ever underrated Bink! Ross was feeling it on this one.
*4 out of 5*
6. "Money Make Me Come"
I'm not sure if the fellas would like this all that much, lol, because it's really catered to the ladies. I'll say this as well: the theme that "money makes the woman come" is two fold: the dollars will make them come, especially thousands and/or millions of them (Ross would allude to this a few times) and I do believe that the mere sight of lots of money would have a woman orgasm on the spot, just saying. When they say "money make me come", that's no exaggeration.
*3 out of 5*
7. "DJ Khaled Interlude"
Words from the man himself, in true DJ Khaled fashion.
8. "This Is The Life"
Genius.com put it best when they described this song as Ross "glorifying his exquisite lifestyle." That says it all right there.
*3 out of 5*
9. "This Me"
"Maybachs were a dream now it's all real/It's hard to get sleep layin' next to 5 mil"
Ross makes it clear that one of many things he does well is get money. Hey, you can't knock the hustle.
*3.5 out of 5*
10. "Here I Am"
Money talks and bull... well, you know the rest, lol, and the audience is the ladies for this one, complete with some mellow production from Drumma Boy (who usually comes with thumping beats) and Avery Storm on the hook (Nelly's verse didn't really add anything to this).
*3 out of 5*
11. "Maybach Music"
"Life's a bitch, so the whole world is mine" -Jay
"I'm like G Rap, wit better transportation/On the road to the riches, reach my final destination/And the lear, closer to Aaliyah/Say a prayer, hope to see her when I disappear from here" -Jay
"True story, my closet is like two stories/Straight to the happy ending cause I don't do stories/Shawn Corey, real rap/The Maybach is bananas, peel back" -Jay
Ladies and gentlemen, welcome to the first installment of the dazzling, WELL produced series known as "Maybach Music!" I also believe this was the first time the "MMG girls", Jessica Gomes and Cheyenne Tozzi, were presented and gave birth to the familiar "Maybach Music" audio clip, which would become a familiar catchphrase, if you will, of Ross' crew (later named as the Maybach Music Group) and would also follow Ross and his artists when they made guest appearances outside the crew. As for the song itself, it's smooth and incredible, definitely the best song on the album. Ross comes with some good lines of his own, but man, Jay simply owns this one in such a slick yet confident manner. GREAT stuff here, featuring some equally great chemistry on display with Ross and Jay, and I can only imagine how GOOD it does sound in a Maybach.
*5 out of 5*
12. "Billionaire"
"If it ain't 'bout cash, I don't really care/I'm straight 'bout cash, I'm a hood billionaire." Well, those lines from the hook tells the lavish story of this League produced joint. Speaking of which, Ross really excelled over the League's production and that continued to be highlighted as we proceed.
*4 out of 5*
13. "Luxury Tax"
"You gotta pay for this" is theme here featuring a collection of what some would perceive as high priced talent. Trick Daddy seemed a bit out of place alongside Ross, Jeezy and even Wayne, who did drop a good verse all things considered, but much to my surprise he didn't bring the song down. Also, much props to the League for the lush production, equipped with a sample courtesy of David Oliver's "I Wanna Write You A Love Song."
*4 out of 5*
14. "Reppin My City"
Ross, Triple C's and Brisco rep their city to the fullest over some decent J Rock production. Triple C's appearance here was much better than what they did on "It Ain't a Problem" from the "Port Of Miami" album.
*3.5 out of 5*
15. "I'm Only Human"
This was a good way to close the album, not anti-climatic at all. My issue is that in the first verse, Ross seems to be heading down the introspective route, reflecting on his past with mom and dad, however, he doesn't sustain that for the rest of the song and again, had he done that, the song would've been much better.
*3.5 out of 5*
Ross' sophomore album was worlds better than "Port Of Miami" and if his first album was (to be) seen as his "rise to power", he emerged as a "made man" on album number two, powered by the force known as Def Jam and a hot hit single in 2008 ("The Boss"). He didn't reach his full potential as of yet, but man he was getting there. The production was indeed nicer and more crisp while lyrically it was more of the same from him (of course) but he was "comfortably inspired." The album moved 198,000 units in its first week, later becoming Certified Gold in excess of 700,000 units sold to date. Things would only proceed to get bigger (and better) for Ross as we head into album number three. Overall, a strong 3.5 star rating for "Trilla."
RICK ROSS ALBUM RATINGS AND RANKINGS
1. "Trilla" (3.5 stars)
2. "Port Of Miami" (3 stars)
Release date: April 21, 2009
"DEEPER THAN RAP" GUESTS
T-Pain
Lil Wayne
Kanye West
John Legend
Magazeen
Nas
K.C.
The-Dream
Avery Storm
Robin Thicke
Foxy Brown
Gunplay
Ne-Yo
Trina
Latonya "Tone Trezure" Givens
"DEEPER THAN RAP" PRODUCTION
The Inkredibles
J.U.S.T.I.C.E. League
C. "Tricky" Stewart
The Runners
BIGG D
Drumma Boy
Toomp
Kevin "Khao" Cates
Man, as far as I'm concerned, this EXCELLENT opener is by far Ross' best song ever. Lyrically, he was on point here (all bars with no hook) and I feel even his detractors would give him props on this one, and please, PLEASE don't get me started on the production. The Inkredibles provided Ross with such a TIGHT, bass driven track, complete with SICK organs (I LOVE the organs here plus it sounds NICE in the ride at night). This song is also notable for apparently sparking his long standing feud with 50 Cent. Normally I would break this down, but considering HOW it started, I'll just move on and say Ross threw a not so subliminal shot and didn't back down either. (I never do this, but if you have some time on your hands, Google "50 Cent-Rick Ross beef" and make your own judgments.) I don't mean to overstate how dope this song is, but man, it sets the RIGHT tone for the album.
"We're the usual suspects, the real definition of success." This line accurately describes this dope song, equipped with another nice Inkredibles production, featuring the one and only Nas. I'm going to comment on this (and other guests) more as we proceed with the project, but Nas and Ross have such a strong chemistry with each other that's undeniable as much as it's scary, lol, and it took me a while to realize that (during my "love/hate" phase with Ross). Great stuff here.
For fairly obvious reasons, I'm sure even at this point in 2009, Ross could have any woman he wanted, so he comes with a "what you see is what you get" vibe here all in route to scooping "his type of chick." So yes, this is another joint for the ladies, with The-Dream along for the hook.
This song is about one thing and one thing only: livin' the life and livin' it fast, not slowing down while you're on top of the world. Naw, Ross is not telling a story here, however, he sort of paints the verbal picture that sees him enjoying his success by way of pushing cocaine, if you will. Check this out, I have an interesting take on what I feel he REALLY means in a case like this, but I'll save that for the end of the project.
Assisted by Robin Thicke, who was hot in 2009 (much like The-Dream was), Ross sets a "laid back" scene for the ladies on this appropriately titled song.
Listening to this, I got the feeling that Ross and Foxy Brown were trying to channel the "Bonnie & Clyde" style that Foxy had with Jay-Z, circa 1996-1999. The song itself is decent, but they fell a little short here, plus I didn't care too much for the accent Foxy used.
You would think that the title of this song and its guest of the same name would be a showcase of sorts for him. We don't get that here and quite frankly, Gunplay's verse didn't set the world on fire. The attempts at keepin' it gangsta were realized here, just more could've been done with the concept.
Whereas the prior song for the ladies ("All I Really Want") saw Ross trying to determine the type of chick he wanted/desired, this Ne-Yo assisted song has Ross describing what "that one lady" can expect if she's on his arm for the world to see.
Well loyal reader, you know what to expect when Trina is a guest on a song. It's ok, but we have heard songs like this before and it's the one true low point on this album.
I remember really liking this 3:00 opener when I first heard it and Ross continues to excel with tight ways to begin his albums. Now, what makes this song particularly interesting is that when this album was released, Ross was one of the hottest artists in hip hop, but to let him tell it here, lol, "he's not a star." In fact, he likely viewed himself, then and now, as an "anti-star", even taking into account his status. It almost sounds like a song that would make you think, but it's not deep like that. This is Ross in his lavish glory. (I also can't forget Ross channeling Master P a bit with the "Uhhhs" in the background.)
Man, what an excellent song this is. Not only is the Inkredibles production almost epic in nature complimenting the song, but Ross and Jay show their strong chemistry again by emerging with one of the deepest songs you'll ever hear on a Rick Ross album. Ross comes with a historical perspective with his verse, however, Jay really steals the show here as he, in my humble opinion, further debunked and dismissed any and all claims that he "worships the devil as part of the Illuminati." I mean, Jay's verse, and this song in general, must be heard to be appreciated.
Well, Ross was #1 with this album in 2010 that's for sure. This song is ok, and even though I've long been a fan of Diddy (same with Trey Songz for obvious reasons), I could've done without their verses.
The album's third single, featuring Ms. Chrisette Michele, who provided such LOVELY vocals on the hook and Drake, whom I've made no secret that I'm not a fan, but hey, even his presence didn't take away from this song (glad he didn't drop a verse, lol). I feel this song is nice for any ride and it's another one the ladies and fellas can enjoy.
Don't let the title fool you, this is not just another song, a closing one at that, about money. Even with all the money that Ross has accumulated, past, present, and future, he won't forget about his family ("Still all the money in the world still not big enough advance/For me to turn my back on me being the man that I am"). In addition, he also takes the time to talk about his father, wishing he could be here to see his son's success and "staying focused to remain his mother's little soldier." A slightly introspective song, featuring Raphael Saadiq, and it closes the album on a very good note.
Oh man, this is SUCH an epic, League produced classic, yes indeed. I could go into "16" reasons as to why this song is SO good, but in the interest of time, I'll limit it, lol. 1) Ross' opening verse was good and you could sort of tell he wanted to extend his words, but he graciously allowed Andre 3000 the rest of the song to flex his superb talents, 2) speaking of Andre 3000, what can I say? Not only did he steal the show here, he all but said "to hell with 16 bars" and just went IN with such an incredible verse, complete with NICE timing and delivery. Amazing and it MUST be heard to be appreciated, and 3) the guitar breakdown at the end, by Andre, was the icing on this proverbial cake, amounting to a standout song.
I'll let Ross describe this song:
Words from a boss right there. Another good song here, featuring quality production from Cardiak and a brief but nice homage to the Fugees in the opening verse.
Ross' take on this song:
Even with the words above from Ross, we have come to a lowpoint in the album. This song is at best "ok", but it's nothing short of what we would've heard all over the radio in 2012 and even present day 2017. Let's move on.
Ok, according to genius.com, this was Ross' ode to his favorite (red) Porsche, in that the "911 connection", if you will, was relating to the color, hence the firetruck sounds in the background. I get it, but barely. Could've done without this one.
Ross and guest/fellow MMG member Meek Mill literally go in over some dope production provided by The Beat Bully, in such a gangstafied MMG way. And speaking of Meek, I've been back and forth about him over the years. At one point I thought he was rather hit and miss, and while he does have a song or two and a few verses here and there that I actually like, overall I'm not a fan, but I respect the hustle.
Two fold song here: on one end, it's Ross' ode to the Presidential Rolex watch, which I hope to own one day (lol) and equating the beauty of a fine woman to said watch. Decent song.
It seemed like this one was heading for a hard type sound, but with Omarion on the hook (he would later sign with MMG), it was clear that this one was aimed at the ladies. Not bad, but not great either.
I can do without any sort of tough talk from Usher, but then again, this joint was not for me, it's for the ladies, plain and simple, and in that regard, it makes points that only the ladies would love. All things considered, this sounded more like something that would be found on an Usher album rather than a Rick Ross one, just saying.
Ross with a few words about this song:
It's interesting to see how that unfortunate health scare led to this song, because without it, we're looking at just another song for the ladies. Even though this one is 100 percent for the ladies, I'm sure the fellas can appreciate how mellow this song is. Drake only provides the hook, visiting territory that's not foreign to him, and the same can be said about Wale. A word on Wale, if I may. He does rep the DMV (DC-Maryland-Virginia) area, so props there, and while I do respect the hustle, I've always thought he was overrated a bit. It's like every time someone would tell me how dope he was, around that same time, one of the first things I would hear from him was a song for the ladies. Again, there's nothing wrong with that, but still, it can be overkill at times. I know I shouldn't limit him like that, but it is what it is.
Stalley, who would also later sign with MMG, comes along with Ross for this jewelry infested song. It's all about the love of the gold chains with the all too familiar Jesus pieces in place. Ross even wants to be "buried a G" with the chains on. This wouldn't have been an anti-climatic closer on its own, but since this is the "deluxe version" I'm reviewing, now it's on to the two bonus tracks. (Ross also knew how to close an album much like he knew how to start one.)
Genius.com described this one as a "titanic coke/cocaine narrative" and I do agree with that assessment. Backed by some truly epic production from the League, Ross and Nas bring their undeniable chemistry to the forefront on this hard hitting track. Nas' opening verse is TIGHT and when you further listen to his joints with Ross, it does seem like just by being on the same track with Nas it allows Ross to step his game up. Such an incredible song and in terms of Ross and Nas collaborations, thus far, when it comes to Ross' albums, they're 2 for 2.
This John Legend assisted song finds Ross tracing his steps back to the beginning of his career, arriving in full circle to where he was in 2012 (and today for that matter) in terms of the accumulation of his wealth. When a man says "100 mil ain't enough", you know he has some serious chips at his disposal to play with. Also, it's a good song, but DVLP didn't need to switch the beat up mid-song and in fact, had Ross rapped the entire song with that way the beat started, it would've been that much more effective.
This Napolean Hill led intro defining "mastermind", by way of Ross, leads us right into.....
These were real news clips of an attempted drive by shooting on Ross in 2013. Thankfully he and his girlfriend survived.
This joint right here is notable for a couple of reasons: 1) it's such a dope song featuring some equally dope production thanks to Mike WiLL Made It, and 2) Ross and Jeezy surprised a lot of people when they settled their previous differences. If you recall, several months prior to the release of this album, there was some sort of backstage confrontation between Ross and Jeezy's camps at a concert (feel free to correct me if I'm wrong) and it almost turned violent until order was restored. It was also interesting in the sense that these two men had collaborated prior to this, but thankfully whatever beef they had was resolved and what we got as a result was song showing you what type of magic can be created when you resolve your differences.
You probably wouldn't have known it, but Keith Sweat was actually on the hook for this one, along with some rather pointless, unfunny vocals from Katt Williams, which causes a .5 deduction on an otherwise good song featuring what can now be called "vintage Rick Ross" over Scott Storch production.
Ok, gotta speak on this one because I'm sure most, if not all, of you probably forgot this when it happened. I'm sure that Ross was going for something deep here, but more than anything he said in this song, I feel the most notable part of this song was when he said "Trayvon Martin I'm never missing my target." Now, for obvious reasons, I really didn't like this line in 2014 (I raised quite a fuss about it at the time on this very blog) and I still don't like it in 2017. Let's move on from this one shall we.
Well, we have come to the part of the album where Ross presents another joint for the ladies, seemingly, with The Weeknd on the hook (and behind the boards along with Jason Quenneville. It almost seemed like a total showcase for Weeknd considering the first half of the song.
Ross talks about the issues that have plagued our communities for years (girls having kids at very young ages, drug dealing, crime, etc) and if we don't come together as a whole, as well as being on top of our financial states of mind, all hope is lost as we head into the future, especially in the trying times of the world today. Enough to make you think right here.