Oh man, this is a post I've been waiting to get to for quite some time now. In 2010-2011, there was a forum I frequently participated in named "HipHop4Life" and a few people around this time were really trying to turn me on to Celph Titled. Due to other material being on my immediate radar, I didn't get to it quickly, but the interest remained. It wasn't until early-mid 2012 that I finally copped the album and as you'll see during this post, it's SO IMPRESSIVE; and much like my revisit of Heltah Skeltah's "
DIRT
" album, this will be
quote heavy
, you can count on that. Three things I really appreciated about this collaborative album were 1) all of the production was handled by Buckwild, 2) the beats provided were made in the 90s and hadn't been used before and 3) the album was a tribute to the 90s era of hip hop. This will be my definitive look at "
Nineteen Ninety Now
" in all of its glory, from start to finish. I hope you have some time on your hands for this one!
Release date: October 26, 2010
1. "The Deal Maker"
Backed by a well-placed sample courtesy of Onyx's classic "Throw Ya Gunz," this dope opener was a very good way to start the album, with a sound/vibe straight out of 1994.
*4 out of 5*
CELPH QUOTES
"I hold the record for the most ignorant rhymes said/That'll knock that cowboy hat off of Imus' head"
"Can't come close, my discography's the one with the most/Cause I appear on more tracks than Dale Earnhardt's ghost"
"And when Moses split the seas/I jumped the gap on water skis/(Did you look back?) Nah, nothin' more to see"
"I shine bright next to mic stands/Might just blind ya eye sight and give ya hype man a slight tan"
"Ain't bringin' the forecast/My hurricane cyclone attack leave you with your bones cracked and four casts"
2. "Out to Lunch"
Featuring Treach
Naughty By Nature's own Treach comes through alongside Celph. Both brought ill lines over some thumping Buckwild production (can't forget about the well-timed reggae sample during the hook).
*5 out of 5*
CELPH & TREACH QUOTES
"Murderous clans that grabbed purses and ran/Ain't shit cause with bare hands I disassemble conversion vans" -Celph
"Yeah the price went up, bakin' cupcakes/And if I told you what was in 'em you would probably throw the icing up" -Celph
"Chicka-chicka-check, me and Trigga Treach/Triple the torture, torch ya when you intercept a Intratec/Intercept text messages, collect "Evidence"/Like a Dilated Peoples box set, get upset, turn ya top red/I'm a hot head, swing a rock in a sock net" -Celph
"Put you in a box dead, carnivore, half animal/Acupuncture treatments from the splinters in my axe handle/Blast ammmo when I mash out/Cause when I lash out, I rip eye lashes out" -Celph
"NATO, couldn't save ya, pray a minute, pause/Ya gone now thanks to Treach and The Demigodz/These demographics are drastic, ya bastard/Mastered the ass-kiss, show ya ass and get smacked quick" -Treach
"Sneak attack entourage, barrage of shooters on deck/That move with a set, pull a tool in a sec, imagine what we do to ya rep/(I'm sayin') dissect with a chainsaw, not a Katana blade/My problems make the common state of your heart rate complicate" -Celph
3. "Eraserheads"
Featuring Vinnie Paz
This banger right here introduced me to Vinnie Paz. Interestingly enough, he didn't win me over instantly, however, after a few listens to his debut "Season of the Assassin," he grew on me from there. This joint here is one of my favorite songs on the album, featuring slammin' production (of course) and the best aggressive parts from Army of the Pharoahs and Jedi Mind Tricks, respectively, as Celph and Paz trade tight bars back and forth. DOPE stuff here.
*5 out of 5*
CELPH & PAZ QUOTES
"The sound of my voice'll make stab wounds/Barber of the universe leavin' planets with half moons/I have assumed that those who choose to make rap music have no talent at music/So me and Vinnie came to grab ya head and put a gat to it" -Celph
"I never thought I'd get a bitch pregnant ever/Until my main squeeze gave birth to a baby Beretta" -Celph
"I ain't a sucker neither, and no one fuck with Vinnie/Fat gut, wife-beater, pasta, I'm a fuckin' Guinea" -Paz
".....Like gang bangers with laser guns/My rap verses are curses and scriptures spit with a razor tongue" -Celph
"C. Titled is fresh like salmon at Red Lobster/And C. Titled's the best at blammin' hammers at imposters" -Celph
4. "F*ckmaster Sex"
Not only is this Celph pulling no punches when describing his encounters and the way he wants things with the fairer sex, but he incorporates audio bits from Funkmaster Flex, basically as a play on his words to help illustrate the sexually charged points.
*4 out of 5*
CELPH QUOTES
"Celph Titled, also known as Fuckmaster Sex, I/Do a slut in my car seat, show her my sex drive/Didn't soak the carpet, but she had a wet rug/Pulled out on those almond-colored breasts and left a chestnut"
"No wide body Benz, I need a wide body bitch/With an ass so large it take up the space of a 3 car garage"
"Huh, got a marriage that she's not holy embraced in/Cause on her body there ain't a single hole that's sacred"
"Got a groupie on my jock and she want me to bang it raw/The tramp is a skank and whore, she'll give you a canker sore/She give up ass often/And it wasn't a MySpace timestamp, that she had the last log-in"
"The damn bitch like a sandwich, all stuffed and greasy/Bust a nut in the hoagie and create a new sub-species"
5. "Swashbuckling"
Featuring Apathy, Ryu and Esoteric
Four members of the Demigodz collective represent to the fullest here and trust me it goes hard as you can imagine. Not only are there four TIGHT verses present, but Buckwild comes through with not one, not two, not three but FOUR different yet dope beats for each man to rip to shreds. Switching the beats up like that was the icing on this Demigodz cake.
*5 out of 5*
DEMIGODZ QUOTES
"Welcome to Hell, I'm Lucifer's Lieutenant/In the School of Hard Knocks I'm the superintendent" -Apathy
"I'm good with the guns, good with the funds/Run and your shit'll get done/Riddle your body with metal get rid of the evidence before the detectives come/So clear a path for the bully in a bull dozer/Booby trap the trunk with a pump in case I'm pulled over" -Apathy
".....I am an icon, turn the lights on when I finish/I treat beats like a pipe bomb and I just lit it" -Ryu
"It's like, make yourself a dang quesadilla/I'm drunk off this Buckwild shit, don't let me near that case of Dilla" -Esoteric
"Fuck a bitch, I'm on some borderline rape shit/I'm puttin' one in the oven and it ain't a fuckin' Duncan Hines cake mix" -Celph
6. "I Could Write A Rhyme"

"Since '93 I been makin' beats and writin' rap sheets/Mischievous teenager wit a creative outlet to release anger"


Pretty good song here as Celph recalls back to a time when he started to write rhymes and produce, naming a few influences along the way, leading to him linking up with the Army of the Pharoahs and Demigodz to gain more expousure and bringing things full circle to where his career was circa 2010. I also like how the song flowed, especially the way Celph raps over the production, with a "Punks Jump Up To Get Beat Down" sample courtesy of Brand Nubian; he comes off as if he's rapping in 1994 by way of 2010. Clever twist there.
*5 out of 5*



7. "Hardcore Data"
Lord Digga's opening line from Masta Ace's "Saturday Nite Live," "the microphone mutilator wit the hardcore data," was such an ill, well placed sample for this banger. On display is Celph's witty wordplay and quite frankly it's awesome. Many quotables lines here, didn't want to include all three verses.
*5 out of 5*
8. "Mad Ammo"
Featuring F.T. and R.A. The Rugged Man

"Double barrel from my vocal booth, I shoot wit both lungs/Find me in Beirut wit blow guns, I'm Babe Ruth wit home runs!" -Celph
The high powered lyrics would be the "mad ammo" on this appropriately titled, bass driven banger (I LOVE the rolling bassline Buckwild provided). F.T. and Celph no doubt bring tight verses, but hot damn, R.A. The Rugged Man steals the show here. He raps at such a fast pace that had you think he would go offbeat at any given moment, but that doesn't happen and it's damn impressive.
*5 out of 5*
9. "Tingin"
Guard your grills when Celph comes through, because your jaw wouldn't be able to handle the stinging blow of his DOPE punchlines. The Big Shug sampled hook is equally effective when mixed with Buckwild's off the chain production.
*5 out of 5*
CELPH QUOTES
"And so far I go hard/I can spit four bars that's whip you across the face like chrome reinforced crowbars/In '96 I rocked with nine 6's/That's triple six, three times so imagine the evil in that (wow)"
"In case you didn't know, I've got the illest flow/My style's double D all natural, yours is silicone/The punchline master/Never get lazy with my writing cause I am gettin' paid when I'm rhymin"
"And on your left jaw I'm tingin, drama that I'm bringin'/Don't work for the church but I be bell ringin"
"In my rap category, I stand alone/You stand alone without a date watchin' Home Alone/I put the Macaulay Culkin facial expression on the face of a bitch testin/Bitch you see this Smith & Wesson (see it?)"
10. "There Will Be Blood"
Featuring Sadat X, Grand Puba, A.G., O.C. and Diamond D
I'm sure Celph was like a kid in a candy store linking up with 2/4 of the Brand Nubian crew and 3 of the heavyweights from the Diggin' In The Crates crew. These men just flow nonstop with no hook in sight. VERY, very good, fast paced song.
*5 out of 5*
CELPH/BN/DITC QUOTES
"Strapped with automatics? No, we use bats and hatchets/Give the microphone a drug test, I spit crack at it(For crack addicts)" -Celph
"When Tony put his face in that snow, I was writin' them flavor flows/Yeah, even my worst haters know that I'm a player for sho'/They be like, yeah, I'm with you, Titled/Bring bitches back to the pad like a menstrual cycle/You walk around like you some kinda thuggy guy/I know you ain't Diddy but I can make you see through Puffy eyes" -Celph
"I don't play when it come to this/I rule the mic with the iron fist/Compile data, then I make the list/Grab the wack, then empty trash so they don't exist" -Puba
"I let the music take over me, words flow through me/Truly the best, that's why niggas keep quotin' me" -A.G.
"Everyday things round me work to my advantage/Pre-empt the plan at random so every livin soul on the planet understand this" -O.C.
"All that slick talk'll just get you smacked in the lips/Game time fourth quarter, back to the blitz" -Diamond
11. "Miss Those Days"
Additional Vocals by Sharifa Reefa
Yes indeed, Celph dedicates this one to "anybody from the 90s..... anybody that appreciates the mark that the 90s left." He also follows that up with, "in my opinion the greatest era for hip-hop, it's like being a teenager during the great Jazz era, so you could imagine what it means to me." Well, I agree 100 PERCENT with all of this so I truly know where Celph is coming from and loyal readers of mine know I LOVE songs like this that reflect on what a great time the 90s era of hip hop was and remains to this day. It doesn't matter whether you refer to this as a tribute, love letter, etc, they all apply. You know, I'll let this excellent song do the rest of the talking. I MISS these days too and oh man, check out the DOPE video below. And ONE more thing, just like in the 90s, the beat rides out for the last minute or so.
*5 out of 5*
12. "Step Correctly"
If you can't step to Celph in any way, shape, fashion or form.... on the mic, you better not step at all. Then again, this man's punchlines are too razor sharp even for the hardest MC.
*5 out of 5*
CELPH QUOTES
"So, take a toke of this, you won't be breathing well/I'm all about biscuits and trees, like a Keebler Elf"
"Here's a thug reminder; a cool quick tip/You belong in the ladies room because you be on some bitch shit"
"There's not a rapper or a singer that's quite as ill as I am/Pop out your eyes and scramble them bitches next to my bacon in my frying pan"
"Pull up right next to you at the drive through/I ain't here to buy food stupid, no tellin' what I might do/Lick a shot, speed off, with the perfect timin/Yeah the tires Screech, no it ain't Dustin Diamond"
"Pass the cheese and salsa, I'm makin nachos/I told you I'm gon make it rain so bitch bring a poncho/I'm the best at war, that's what the hecklar for/Play me like it's chess and I'm smack you with a checker board"
13. "Wack Juice"
Additional Vocals by Anthony "Flave" Black

"Muthafucka I came to set it off (what you mad for?)/These amateurs destroyed the whole rap platform (word?)"
The excellent "Miss Those Days" took us back to the BETTER days of hip hop, now the APPLY titled "Wack Juice" takes us to hip hop in (then) present day 2010 and quite frankly, that remains the case today unfortunately. Celph is justifiably mad on this one, taking the state of hip hop to COMPLETE task for how wack it had became/had become (filled with grown men wearing tight jeans and mohawks, which was the "in thing" at this point), along with a WELL TIMED Canibus sample courtesy of "Second Round Knockout." He didn't pull ANY punches, nor should he, definitely speaking the truth and I largely agreed with everything he said here.

"Everybody got a song, everybody got a mixtape/Braggin' bout the verses that they purchase off of MySpace/They ain't buyin' records, they workin' on their records/And postin' bulletins to make sure you heard their records"


Man, remember when MySpace was the hottest social network in town at this point? I sure do and it's amazing to look at how things have changed from 2010 till now in terms of social networking itself. MySpace is literally not on anyone's social radar and in it's place are services such as Facebook, Twitter, Instagram, SnapChat, etc. Celph hits the nail on the proverbial head with the quote above, because the line "everybody got a song, everybody got a mixtape" speaks VOLUMES today, and the "posted bulletins" have been replaced with "wall posts," "tweets," "selfies," "GIFs," and "memes."

"Made a internet music page, posted some songs up/Beg people to check them, but then they say they all suck"


Celph's lyrical assault continues into the second verse and the following lines ACCURATELY puts this song into a clear cut perspective AND describes hip hop in present day 2016 in a total nutshell:
"I bring it straight to ya, I won't kick no weirdo literature/Over trash beats witha stupid-ass time signature (STUPID)/Think you're so fresh, movin Rap forward, but that's when I'm pressin fast forward/If the future of hip hop is some faggots wit mohawks, tight clothes, and women scarfs, then I'm gone/Back to that gutter, back to that basement/Back to real live microphone skills and not gay shit!!"
*5 out of 5*


"I really didn't understand it when I heard these joints/It's like on purpose they try to rap wit a nerdy voice (is you serious??)/My mindstate's like a bitch on a rap- I just don't like you, period"
14. "Styles Ain't Raw"
Featuring Apathy and Chino XL
Hot damn, the 3 man "coalition of the spoken word crack cookers" bring "ill versatile" skills to this banger and if you thought "Mad Ammo" and "Swashbuckling" were on point, this joint is straight fire as well. I wonder if any, uh, artist on a mainstream level could rhyme this hard without making a fool of themselves..... probably not. This is another quote filled song that literally speaks for itself.
*5 out of 5*
15. "Where I At"
Additional Vocals by Blacastan
How much more dope can this album get? Again, another damn good song here, however, the following lines paint this verbal, "5 out of 5* picture well:
"I stepped my game up, my cadence is impeccable/Lyrics are out of this world, swagger is incredible/And if you can't see that then you're probably a rapper yourself/Wishin' you could be where I'm at"
ADDITIONAL CELPH QUOTES
"Your budget I ate that, I'm the new Pat Sajak/They asked me for a couple letters so my AK spat"
"I'm gon slide past wack shit with highly extensive/Combat shit on compact disk/Don't worry if I'm burnin' your album/Cause if I'm burnin' your album, I'm in the backyard burnin' the album"
"How many times am I fresh? That's umpteen/Get dirty, pull the trigga, but I keep my gun clean/That's sparkly shinin', yeah, the glittery bling/Vocals so big, the Pro-Tools need a 50 inch screen/Hardcore rhymes, jazz riffs and loops/I think y'all forgot what rap sounded like, didn't you?/Let me remind you of a time way back/When hip hop tracks had hard snares and not lame snaps/Rappers where rappers, drug dealers were dealers/Fans was just fans and the music was much realer/Now it's a clown show/Except these faggots got a dope boy persona instead of the damn clown nose/I laugh at any critic saying my style is too humorous/Cause you're an insecure boy with an abused uterus"
16. "Time Travels On"
Featuring Majik Most and Dutchmassive
"I used to be depressed about this life of mine but now the clock is my medicine/I get better with time, time travels on" -Celph
On this reflective closer, Celph, Majik (who sounds a bit like Skyzoo) and Dutchmassive talk about the importance of time and how to take advantage of it while you can, as well as embracing the idea of getting better with age. Very good way to close the album.
*5 out of 5*
ALL things considered, this is such an incredible album from top to bottom, definitely one of the more slept-on treasures from 2010 but still one of that year's best albums hands down. I'm not sure why these Buckwild beats were left in the vault for so long, but that's no issue here. Celph MORE than handles the production on all levels with his HIGHLY DOPE lyrics, crafting such ILL, rewind worthy punchlines to maximum effect. Speaking of effects, the term "dope beats and rhymes" is very effective in describing this album and everyone involved delivered in more ways than one. Overall, this is a CLEAR CUT 5 star album, followed by a STRONG recommendation to check out if you haven't done so already and a fitting dedication to the 90s era of hip hop. Mad props to Celph and Buckwild for this joint!
OH YEAH, there's more!!! As an added bonus, I'll be including "Nineteen Ninety More!!" Released on November 8, 2011, this includes bonus material and a plethora of instrumentals.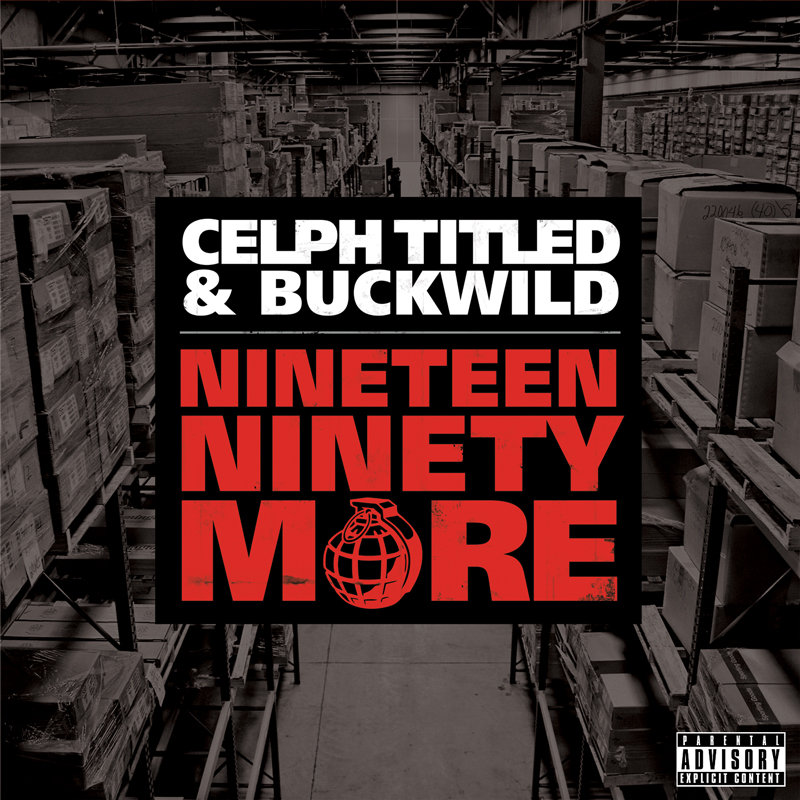 1. "While You Slept"
Featuring Laws
I got the feeling this was a slight showcase for Laws, who came with a dope verse of his own. Nevertheless, this is continuous dopeness here.
*4 out of 5*
CELPH QUOTES
"Postman gone postal, killa wit my delivery/Word mechanic, you got nerve damage if you ain't feelin' me"
"So y'all know I'm supplyin' the crack/Fire attack, can't size my rap on seismographs"
2. "Good Hell Hunting"
Featuring Outerspace
This reminded me a bit of "Mad Ammo," but with a more sinister side packed with "savage, sledgehammer flows" over dope production. I like this one right here.
*5 out of 5*
3. "Rapid Fire"
Featuring Cella Dwellas
"I'm one hell of a reverend/Cause when they want answers from God, I tell em it's an irrelevant question (stop stressin)" -Celph
This was a very good collabo with the Cella Dwellas, however, I feel a small spark was missing considering the song's title.
*3.5 out of 5*
4. "Get Stupid"
Featuring Lord Digga and Kwest Tha Madd Lad
"You said you got your own clothing line/But that was just wire strung up in your backyard for your clothes to dry" -Celph
"For the price of general admission you have gained admittance/To witness a transmission of script that defies all description" -Kwest
I'm assuming this had to have been Lord Digga's (formerly of Masta Ace Incorporated) first appearance in MANY years linking up with Celph and Kwest. If these men did "get stupid" here, they brought "stupid dope" rhymes.
*3.5 out of 5*
5. "The Celph Titled Show"
This hardcore, one man show is equipped with so many ILL punchlines it's not even funny, nothing more or less. DOPE stuff here.
*5 out of 5*
6. "Nothin' To Say"
Featuring Rise

"Celph Titled's not your ordinary street rhymer/I'm like Evil Dee and Mr. Walt, I beat miners (Beatminerz)" -Celph
Not surprisingly, Celph continued to bring some rather ill lines to this; Rise did a fair job with his verse.
*3.5 out of 5*
7. "There Will Be Blood (Remix)"
Featuring Sadat X, Grand Puba, A.G., O.C. and Diamond D
Same lyrics from the original, different beat, and I do prefer this version over its predecessor.
*5 out of 5*
8. "Buck's Four Course Meal"
On Celph's whopping FOUR DISC "The Gatalog: A Collection of Chaos" (I need to get on this one soon), he did a creatively titled joint called "Primo's Four Course Meal" where he delivered four verses, with no hook, over some of DJ Premier's finest work. This time around, he came with "Buck's Four Course Meal," where he did the same thing but over some of Buckwild's finest work and I believe this was recorded prior to the release of "Nineteen Ninety Now." Again, continued dopeness to end things.
*5 out of 5*
"A lot of rappers got my face on they dartboard/But they don't start war cause I'm the hardest of the hardcore"
"Aimin' these shells at the state of rap music/Tryin' to change the people and tryin' to change they view of it/The faggot art nerds will say we're not progressive/But they don't realize this album is a highly focused weapon"
"We on a muthafuckin' murder spree/Give constructive criticism and I'll give you reconstructive surgery"
"My guns are more than a friend/On time at your door with a nine and a .45 at a quarter 'till ten"
"One harmless suggestion is get your speech right/My scrap napkin verses smoke what you took a week to write/You like butt cheeks tight, it ain't hard to tell/You been through more manholes than Donatello and Raphael"
As a bonus, this was PRETTY DAMN good, almost leaving you wanting MORE of Celph Titled. Overall, I'll go with a solid 4.5 star rating for this, which is better than most artists entire albums.
Thumbs way up to Celph and Buckwild for all of this tremendous work and Celph, if you're reading this, I HOPE we get another solo album from you at some point!!!!! Salute!!