What's good hip hop world! I hope all is going well with you as we continue through the rest of 2015. As for me, I'm doing very well at this point, even with my continuous busy schedule, and of course I haven't forgotten about my blog (and a special thanks to those who checked out my Big Daddy Kane project). So with this being said, I want to go into a few things, one of which will shock most, if not all, of my readers. Continue on!!!
I bought Scarface's new album on the day of its release, and going into it, I was expecting an excellent album, and my expectations were greatly exceeded. Face has done it again with another FINE addition to a stellar discography. As I've said recently, this is clearly my pick for best album of 2015 and short of a new album from Nas, I can't see anything else coming out before the end of the year matching the sheer quality of "Deeply Rooted" (certainly there were no albums released BEFORE it that can match it either, respectively). Whether this is his last album or not, Face came through with another 4.5 star album and if you haven't checked it out already, I STRONGLY recommend that you do so ASAP, you won't regret it. It's worth the time, money and being added to your collection.
You know, I've heard nothing but good things about this movie and quite a few people have recommended that I check it out. I'm sure I haven't mentioned this often on the blog, but I've never been a fan of hip hop biopics or those related, especially in cases where one or more of the artists are no longer here (in the case of this movie, Eazy-E). Don't get me wrong, I highly respect the work of all involved, but I'd rather not see movies/biopics made about hip hop artists. When it comes to N.W.A., not only am I a long time fan of the group, but I know their history. Furthermore, in something I was afraid would happen, due to the success and praise "SOC" has received, now this means "trend hopping" is going to start and now
everyone
is going to want to make a biopic. And check this out, my lady, who is not much of a hip hop fan like I am, went to the movies to see this and recommended I check it out, so that says something right there. Overall, I may watch it at some point, but rest assured the more hip hop biopics become a trend for the sake of doing them, the less likely I am to check out "SOC".
The next project in my plans will be covering Busta Rhymes, starting with his 1996 debut, "The Coming" to what hopefully is not his last studio album, "Back On My B.S." Like my previous projects, this will be the most defined look at Busta Rhymes' discography.
And last but not least....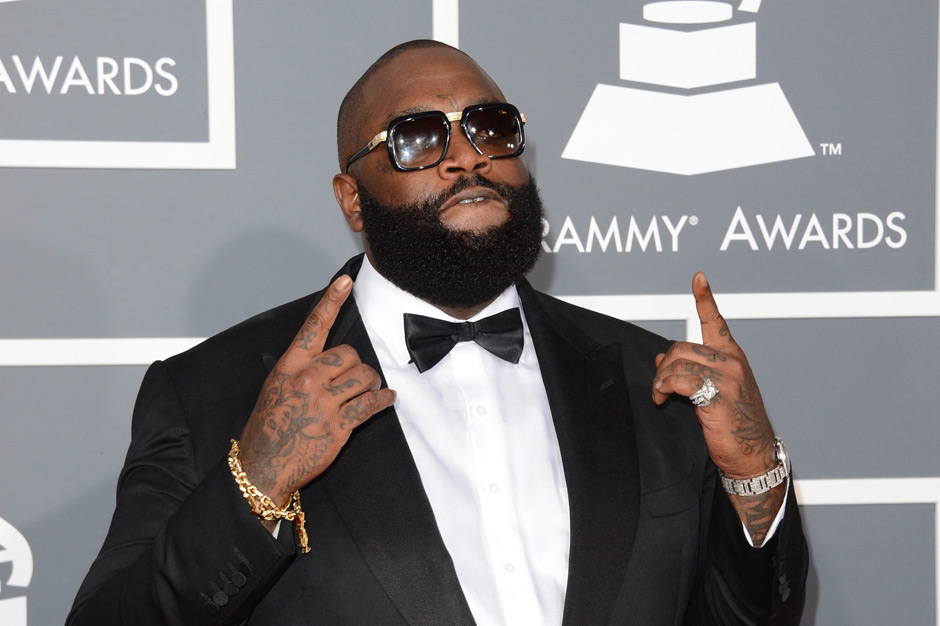 Yes, Rick Ross. Some words if I may. Before I get to my history, if you will, with Ross, I have to admit that at this point, this guy has won me over (continuing somewhat of a trend of Southern artists taking a long time to do so) and I think a good part of that has to do with his verse on Scarface's "Do What I Do" (which also features Nas) from the aforementioned "Deeply Rooted" album. It wasn't the verse of the year or anything, but hot damn Ross did his thing and I was impressed. Now, the "history". When I heard his first wave of songs such as "Push It" and "Hustlin", aside from the dope production, I wasn't impressed. From there, the scandal regarding his past as a Corrections Officer (C.O.) came about and controversy ensued. My MAIN issue then was the fact that when the proof came out that it was him, he lied at first and when the pressure got tight, as usual in a case like this, he finally admitted it was him. Since that point, I made it clear when his name came up that I wasn't a fan for these reasons (it's all about the image, I maintained). Then there came points where I was caught up in the hype, circa 2010, and I found myself owning a few of his albums on the low, having sort of a "love/hate" relationship with him. And this brings things back full circle. I have moved on past the C.O. controversy and accepted that the man simply makes dope music, and when you take into account the strong work ethic, a GOOD ear for beats, cosigns & features from artists I've been supporting for years (Nas, Jay Z, Scarface, Raekwon, Ghostface, Jadakiss, Styles P, Snoop, Kanye, just to name a few), etc, it can't be ignored for that much longer, for the lack of a better line. And speaking of Nas and Jay Z, my #1 and #2 favorite MCs of all time, he has SUCH a great chemistry with them it's not even funny (no longer scary, lol). At the end of the day, the entertainment factor is the most important thing. I even had a conversation with a close friend about this, and he advised me not to worry (because I thought I would be viewed as a hypocrite for coming out and admitting I like Ross after ALL the things I've said about him), opinions change and we like what we like, and I couldn't agree more.