Although my blog is dedicated solely to hip hop music, there's one form of entertainment that is and has always been number two for me (since the age of 5) and that's pro wrestling. I was watching either WWF Superstars of Wrestling or Wrestling Challenge on a Saturday or Sunday morning, and despite my grandmother's effort to stop me from watching it, lol, I was hooked ever since. My mom never had a problem with me watching it and she's still surprised today to see that I'm still a fan. I was aware of the NWA (later WCW) and their big names, but the WWF (now WWE) is what I grew up on, and I had the priviledge of witnessing some of the best eras in wrestling history as they happened, starting with the "Golden Age" of the 1980s continuing into the early 1990s. Granted, the 1993-1996 period may not have been the best, but I still stuck with the product. In addition to the Saturday and Sunday morning shows, I also watched Monday Night Raw from its early days on up, plus I watched WCW's inaugural Monday Nitro show on 9/4/95. Speaking of which, the Monday Night War/Attitude era was THE best time to be a wrestling fan, no question. While I did switch from USA and TNT, respectively, from time to time, the majority of my attention was on the WWF, and that was very clear in 1998, my favorite year in wrestling. When I think of that year, "Stone Cold" Steve Austin, my #2 favorite wrestler of all time, comes to mind, as well as his pull apart "brawl" with Mike Tyson on the 1/19/98 episode of Raw, his first WWF title win at Wrestlemania 14 (which was one of my all time "mark out" moments as a fan). I also can't forget being absolutely in shock when Mick Foley a/k/a Mankind took two of the most incredible bumps ever in his now legendary match with The Undertaker at the King Of The Ring. Loyal reader, I can go on and on and on about my memories in the 90s, but I'll try to not to do that, not this time at least, lol. For me, the Attitude era ended the night Wrestlemania X-Seven (STILL the greatest PPV of all time) went off the air, and even though I continued to watch after that, things would never be the same again and I'll always cherish those moments I witnessed in the 80s and 90s.
I'm also going to share some personal fan facts. Check it out!!
My top 5 favorite wrestlers of all time
#1 [Shawn Michaels]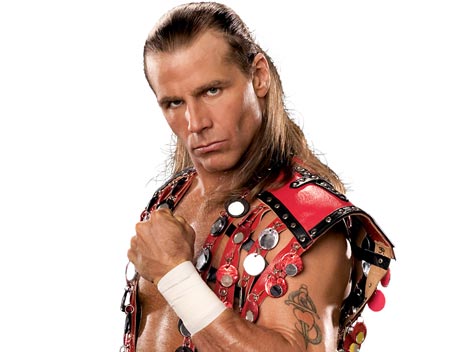 #2 ["Stone Cold" Steve Austin]
#3. [Ric Flair]
#4. [Bret "Hitman" Hart]
#5. ["Macho Man" Randy Savage]
RIP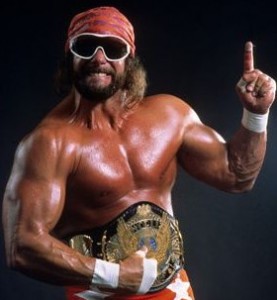 My top 10 favorite matches of all time (in order)
1. Shawn Michaels vs. Undertaker
Hell In A Cell, Badd Blood 1997
2. Steve Austin vs. Bret Hart
Submission Match, Wrestlemania XIII
3. Shawn Michaels vs. Undertaker
Wrestlemania XXV
4. The 1992 Royal Rumble match
5. Steve Austin vs. The Rock
WWF Championship Match, Wrestlemania X-Seven
6. HHH vs. Cactus Jack
Street Fight for the WWF Championship, Royal Rumble 2000
7. Steve Austin vs. HHH
3 Stages of Hell Match, No Way Out 2001
8. Randy Savage vs. Ricky Steamboat
WWF Intercontinental Championship Match, Wrestlemania III
9. Steve Austin vs. Dude Love
WWF Championship Match, Over The Edge 1998
10. The 1990 Royal Rumble match
My top 5 favorite tag teams of all time
#1. [Hart Foundation]
#2. [The Rockers]
#3. [The Brainbusters]
#4. [Demolition]
#5. [Edge & Christian]
Just to keep things a little more interesting, I'm also going to talk a bit about the upcoming Wrestlemania 30 PPV (which I'll be watching on the WWE Network) and offer my predictions!
The buildup to this show has not been the best and it was one of more lackluster builds I've seen in a while. I'm still looking forward to the show though, considering all the hype and promotion outside of Raw, Smackdown, Main Event, etc.






Daniel Bryan vs. HHH
This match is arguably the most anticipated match on the card, certainly the best built. I may not have agreed with some of the things HHH has done over the years, but I still consider myself a long time fan of his and I'm looking forward to how he performs in this match. Daniel Bryan has been on an incredible roll since Summerslam 2013 and I feel he's going to have a memorable 2014! Considering ALL of the buildup to this match, common sense says Bryan goes over clean and he's my pick to win this match. ANYTHING else is stupid. Speaking of Bryan going over clean......
????? vs. Randy Orton vs. Batista
WWE World Heavyweight Championship Match
Now, IF HHH wins his match against Bryan, he'll be part of this to make it a triple threat match, and if Bryan wins, he'll be inserted into this match. Something is telling me that even if HHH loses the match above, he's going to find someway to insert himself in this match (I mean, what would stop him). Orton has not been booked well and Batista is a hot mess. THIS IS Bryan's moment and he deserves this win. I've been picturing him holding both belts and chanting "Yes Yes!" to close the show for WEEKS now.
The Undertaker vs. Brock Lesnar
The build to this match was disappointing. I expect a very good match here, and although they didn't touch on it during the buildup, this will have a hard time being better than their "Hell In A Cell" match from No Mercy 2002. I'm sure they're not going to try and top it either. Taker wins this one.
John Cena vs. Bray Wyatt
Say what you will about Cena, but in big match situations, he usually delivers and within recent times I've grown to appreciate his work and respect him more. I liked the buildup to this and I can see this being in the middle of the show. Cena wins.


The Shield vs. Kane & The New Age Outlaws
A lot of people are disappointed that the Shield wasn't placed in a more meaningful match. I agree with that. I will say at least they're on the card and not left off or placed in the Andre The Giant Battle Royal (more on that in a bit). It should be a decent match that sees the Shield go over clean and end this feud with Kane.
Andre The Giant Battle Royal
The winner of this will be the first recipient of an Andre The Giant memorial trophy. My pick to win, well, I'm going to go with Sheamus.


Fatal 4 Way for the WWE Tag Team Championship
The four teams included will be The Usos, The Real Americans, Los Matadores, and Ryback & Curtis Axel. Thus far I'm not sure if this will be one fall to a finish or elimination rules, but it should be decent. It should NOT be on the pre-show in my opinion, plus Cody Rhodes and Goldust should be part of this match as well. I'm going with the Usos to retain the titles.
Vickie Guerrero Divas Championship Invitational
This was a rather pointless addition, and chances are it's going to be a trainwreck AND the worst match on the show. My preference would've been a one on one match, likely with A.J. Lee and Tamina Snuka. Speaking of A.J., she's my pick to win and retain.
Overall, Wrestlemania 30 should be a very good show. It'll be Wrestlemania fever for me going into the event, as I'll be watching the 2 hour pre-show, plus a few classics from my extensive wrestling collection over the weekend. I enjoyed putting this together for you to read, and I've often considered doing something dedicated to wrestling in addition to my hip hop blog. I don't want to put too much onto my plate in that regard, but we'll see how that goes! If you'll be watching Mania 30 from the comfort of your home or you'll be in New Orleans on Sunday, enjoy!!!!