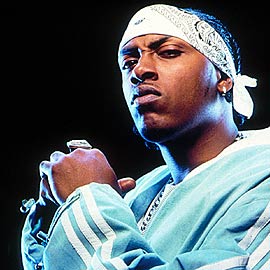 Before the term "King of the South" became a popular one, Mystikal had his own term going, which was the "Prince of the South". Now, I might as well back up a bit, because considering this post, I have a little explaining to do, lol, which is all good. I actually never said I wasn't a Mystikal fan, however, musically I fell out with him years back. Why? Well, go back and listen to his verse on "It Ain't My Fault Pt. 2". There's a certain line in that verse (I won't print it here and I'm sure you know which line I'm referring to) which was more "shake your head" worthy and less impressive. I just couldn't get pass that line.... until I decided to revisit some old No Limit albums recently. I almost forgot how charismatic he was with his rapid fire flow, often times stealing the show during guest appearances, plus he was creative when he wanted to be. He was my favorite artist on No Limit at the time, of course that would bring me to his discography.
Via a trade in mid 1999, I owned his debut and I recall liking it a lot. I haven't heard it in so long (a revisit is on the way as you read this). The highlights that still come to mind immediately are "Here I Go", "Out That Boot Camp Clicc" and "Beware". I guarantee you once I listen to this one again, it's going to sound better than it did the last time I bumped it.








The No Limit era
This was the first No Limit album I bought, on Saturday, April 4, 1998, and at the time I was very impressed. There were many highlights to be found here, and many would say this was his best album. This is also due for a revisit, considering that I haven't bumped it in years.






This was the first No Limit album I bought on it's release date, December 15, 1998. I thought it was decent at the time, but obviously it wasn't as good as the first two albums. Some of the highlights I recall from this album are "Round Out The Tank", "That's The Nigga", "There He Go", "Keep It Hype", "I'm On Fire", "The Stick Up" and "What's Your Alias". ANOTHER revisit on deck. It would also be his final album on No Limit.




Post No Limit
Yesterday (3/9/14) I listened to this album, via Spotify, for the first time (I know I'm late, lol) and I like this album a lot, and it was his best since "Unpredictable". Lyrically he still bought the usual, but he sounded so inspired over production courtesy of The Neptunes, The Medicine Men (formerly known as Beats By The Pound), Bink and Earthtone III. Tight album.




In a funny note, I bought this album in 2002, and honestly it wasn't on my radar, but on a Saturday evening, I just grabbed the album out of nowhere. I listened to it once, and that was it, never really truly formed an opinion on it. I revisited this yesterday as well, and it's decent, but compared to its predecessor, this was a small step down. "Bouncin Back (Bumpin Me Against The Wall)" was as big in 2001-2002 as "Danger" and "Shake Ya Ass" were in 2000, plus I really like the bangin title track and the Redman & Method Man assisted "I Get It Started".




Currently he's signed with Cash Money, and while a new album from him would be nice to hear, I doubt we'll see it released under Cash Money, but that's another story. Mystikal definitely had a style like no other before him, and chances are we'll never see another artist like him. As a result of the revisits, looks like I'll only be adding "Mind Of Mystikal", "Unpredictable" and "Let's Get Ready" back to the collection.


Much props and respect to the "prince of the South".