The actual release date of this album was a little complicated going into this session. Apparently this was released one month after N.W.A.'s "Straight Outta Compton," although a few samples from this "Eazy Duz It" album appear on the former. Although Eazy never intended to be an MC (he wanted to be a financier, the brains behind the operation if you will, and I credit this to Alonzo Williams on the "Welcome To Death Row" documentary), it was clear he was likely the most charismatic member in N.W.A., which brought about his debut solo album. In addition to all of the production being handled (in house) by Dr. Dre and DJ Yella, it was no secret that most, if not all, of his rhymes during this period were penned by Ice Cube, MC Ren and The D.O.C., and that includes this album. "Straight Outta Compton" was a groundbreaking album on all levels, so let's see how this pales in comparison.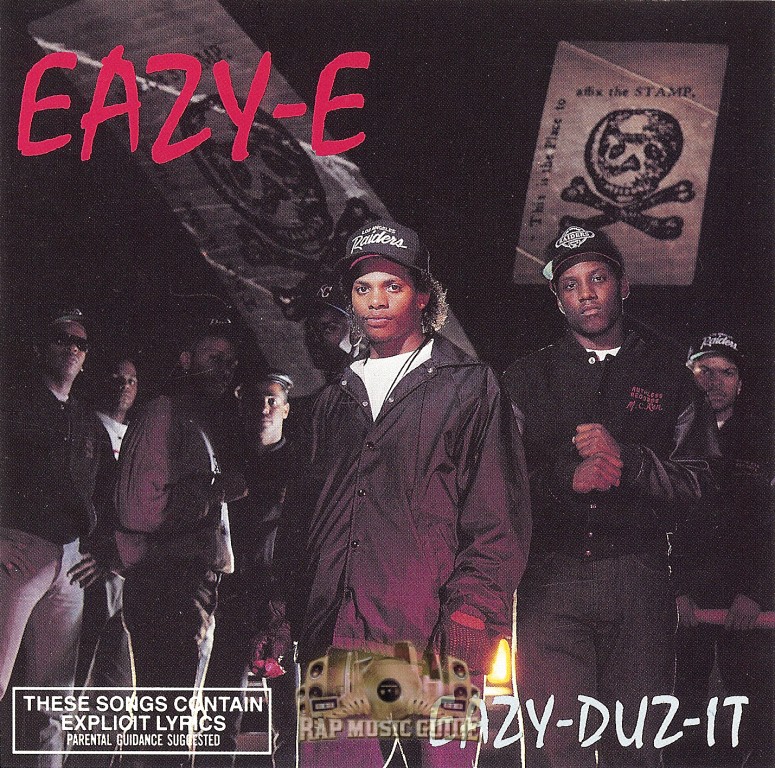 Release date- September 13, 1988
All songs produced by Dr. Dre and DJ Yella
1. Prelude/Still Talkin
Sample check #1
Sample check#2
Sample check #3
"Now that you got the album, what the fuck are you gonna do wit it bitch??!!"
LOL, this question at the end of the Prelude takes us right into "Still Talkin" and that's exactly what Eazy was doing here. Cube and D.O.C. were hilarious in the background in between verses, lol.
Grade- A
2. Nobody Move
Featuring MC Ren
MC Ren comes along with Eazy for this bank heist on record. Lol, leave it to Eazy to interject some humor in the process, while still having a no-nonsense attitude.
Grade- A
3. Ruthless Villian
Featuring MC Ren
This one is almost like an MC Ren song, or should I say "freestyle", featuring Eazy-E. Either way it's still dope.
Grade- B
4. 2 Hard Mutha's
I really liked the drums on this one, as well as Eazy and Ren showing how hard they were on the lyrical tip.
Grade- A
5. Boyz N The Hood (Remix)
This is the song that started it all, and it was penned by Ice Cube. Dr. Dre has always said that Eazy initially didn't want to do this song, but he essentially talked him into doing it, complete with dark sunglasses in a dimly lit studio. This is probably his best song ever, complete with hard lyrics and a BANGIN beat that remains friendly to any nice system when its played.
Grade- A+
6. Eazy Duz It
Sample check
"Boy you shoulda known by now, Eazy duz it!"
Yes indeed, and that's more than explained on this title track.
Grade- A
7. We Want Eazy
Bootsy's Rubber Band' classic "Ahh... The Name Is Bootsy, Baby" was the perfect sample here and it's Eazy-E in all of his attention grabbing glory. Plus, the video is so memorable I had to post it below.
Grade- A+
8. Eazy-er Said Than Dunn
If you thought about trying to fade Eazy, this apply titled classic would've certainly changed your mind, no question.
Grade- A+
9. Radio
You can take a song like this one of three ways. 1) Eazy was aiming for radio play, which I would doubt a little bit looking back on things, 2) Eazy loved his radio, whether he was on it or not, or 3) all of the above. Either way, good song, especially with the Public Enemy, LL Cool J, Beastie Boys and Run-DMC samples in the background.
Grade- B
10. No More ?'s
Sample check
Eazy answers a series of questions in true Eazy-E form, only to end the song by saying, what else, "no more questions", lol.
Grade- A
11. I'mma Break It Down
Who said Eazy (and N.W.A. overall) didn't know how to party?! Well, that's actually what you get here. This was made to get you on the dance floor, so Eazy broke it down to make sure you did so.
Grade- A


12. Eazy Chapter 8 Verse 10
This was more or less a spoken outro.
When it came to Eazy-E on the solo tip, what you heard (and saw) is what you got. Street stories, hard/braggadocious rhymes over DOPE beats, etc. There was no question that after this album, while Eazy was clearly not the best MC, he was the most charismatic in the crew, thanks to his no nonsense, I don't give a you know what, in your face style. What resulted here was a fine album for its time (nowhere near the level of "Straight Outta Compton") and as Ice Cube said years later, "although Eazy-E was the name, N.W.A. put that record together", and I agree. I also can't forget that with virtually no radio play and a decent amount of video play for "We Want Eazy" and "Eazy-er Said Than Dunn", the album was a huge double platinum success.
Final grade- A
[Note: I believe the original pressing of this album remains out of print, however, in 2002 a Remastered version was released with included the "5150: Home 4 tha Sick" EP, which is also out of print.]