After blessing us in 1999 with the awesome "Blackout" album, fans and critics alike were anticipating part 2, because we all knew there would be one. Although it had took them 10 years for the sequel, Meth and Red were still active in hip hop. Aside from the "How High" movie and soundtrack, a short lived TV series, and guest appearances, Meth released "4:21: The Day After" in 2006 (a highly slept on, dope album) and Red dropped "Red Gone Wild: Thee Album" in 2007 (another dope, slept on album), so it was only a matter of time before we were blessed with the sequel to "Blackout". The hip hop world was a totally different place than it was 10 years prior, which I will touch on a bit during the closing of this. Let's get ready for "Blackout 2", yes indeed!!
(Interesting fact #1. I bought this album and Ghostface Killah's "GhostDeini: The Wizard of Poetry" on the same day, which I can't recall off the top of my head right now, lol.)
(Interesting fact #2. This was released on the same day as Eminem's "Relapse" and on a LESSER note, Busta Rhymes' "Back on my B.S.")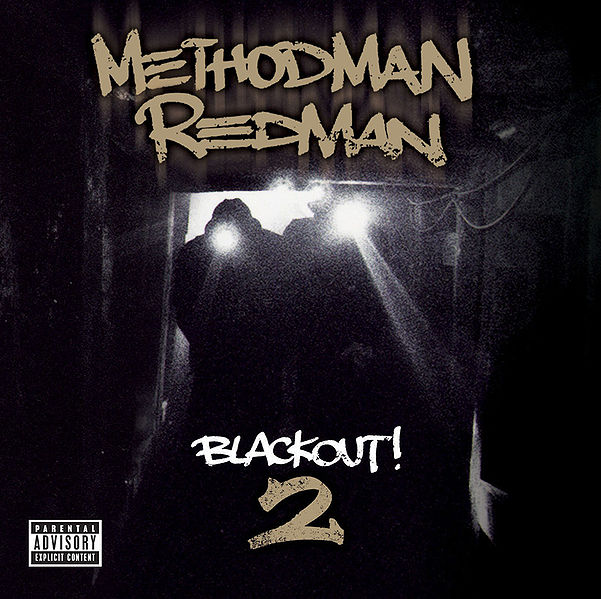 Release date- May 19, 2009
1. BO2 (Intro)
Produced By: Allah Mathematics
It's almost as if the late Phyllis Hyman was watching over Meth and Red, considering how GOOD "Magic Mona" is sampled for this hype intro. And it's SO dope that I'm going to do something I rarely do for an "intro", and that's give it a score. Meth and Red, back in the BUILDING!!!!!!
4.5 out of 5
2. I'm Dope N****
Produced By: Havoc
"Hip hop is lame, the whole game is lackin!" -Redman
True words by Red over this BANGIN piece of work. I LOVE Havoc's beat for this one (one of my favorites from him), and of course Red and Meth work lyrical magic, showing they hadn't lost one step at all.
5 out of 5
3. A-Yo (featuring Saukrates)
Produced By: Pete Rock
Let's see. A dope Pete Rock track, a nice hook provided by Saukrates, Meth more mellow than usual (but still dope with it), and Red coming correct with the punchlines, what more can you ask for?! I LIKE this one right here! Oh yeah, that same Phyliis Hyman song from the intro is used briefly during the opening in a nice touch.
5 out of 5
4. Dangerous Mcees
Produced By: Erick Sermon
Meth and Red show why they're dangerous Mcees, over a good Erick Sermon production.
4 out of 5
5. Errbody Scream (featuring Keith Murray)
Produced By: Swift D
This is ANOTHER dope track, with it's party vibe and Rockwilder esque production. Thus far, Red is feeling it, lyrically, with Meth not too far behind. Keith Murray delivered a very good verse too.
4.5 out of 5
6. Hey Zulu
Produced By: Rockwilder
The party vibe, again, is in full effect for "Hey Zulu". I like how Meth and Red brings it over a very good Rockwilder track. Oh yeah, I deduct points for Poo Bear's autotuned hook. Other than that, this is more dopeness.
4.5 out of 5


7. City Lights (featuring Bun-B)
Produced By: Nasty Kutt
I like the southern fried vibes for this Bun-B assisted joint, and there's no doubt that the late Pimp C would've been on this one too.
4 out of 5


8. Father's Day
Produced By: Ty Fyffe
Father figures in hip hop, that's the theme here and it works very well.
4 out of 5
9. Mrs. International (Skit)
You had to know this was coming, lol, and this skit is about as funny as you would expect.
10. Mrs. International (featuring Erick Sermon)
Produced By: Buckwild
Oh man, I like this one a lot, plus the video was hilarious as well. I don't know why I thought Erick Sermon produced this, but I had to look at my album insert again for clarification, lol. This is one of those songs that should've been bigger than it was in my opinion.
5 out of 5


11. How Bout Dat (featuring Ready Roc & Streetlife)
Produced By: Vinny Idol
Say it with me, the dopeness continues. All 4 MCs bring the lyrical goods over a throwback style track with a 2009 twist.
4 out of 5
12. Dis Is 4 All My Smokers
Produced By: DJ Scratch
Loyal reader, you should know by now what type of song this is, and it's appropriately/apply titled.
5 out of 5
13. Lock Down (Skit)
This leads us into.....
14. Four Minutes To Lock Down (featuring Raekwon & Ghostface Killah)
Produced By: Bink!
Oh man this is GREAT, as you have two of the best duos with perhaps the best chemistry of all time on the same track. 3:22 was all that was needed for Meth, Red, Rae, and Ghost to kill Bink's bangin track!
5 out of 5
15. Neva Herd Dis B4
Produced By: Erick Sermon
One of the notable lines here is that Red claimed he was the 11th member of the Wu-Tang Clan. While that could be viewed as an "unofficial claim", I have no problem with it. And did I mention that this was another dope song too, on an album FULL of them?!
4 out of 5
16. I Know Sumptn (featuring Poo Bear)
Produced By: King David
One song before the closer, this could very well be a "cool down" moment, but the song itself would suggest otherwise. I could've done without the autotuned hook, but it was good for the most part.
3.5 out of 5
17. A Lil Bit (featuring Melanie Rutherford)
Produced By: Rockwilder & Chris n Teeb

This was an interesting choice for a closer, and I definitely couldn't picture it near the beginning or in the middle of the album. By no means is this a bad song though.
3.5 out of 5


Before I get to my thoughts, check out with Meth had to say about this album on July 6, 2012:
"A lot of people slept on that Blackout 2. Blackout 2 was dope. I don't give a fuck. I did my thing on that album...Honestly, I would put that album up against any album that came out that year (2009)."
I agree with Meth 100 percent here. This is one of those albums that I like more and more each time I listen to it. I actually do like this one slightly more than the first "Blackout" album. Don't get me wrong, the first album was (and still is) dope, but "Blackout 2" is more fast paced with a more refined/polished sound, making a more cohesive listen, and yes, my rating jumps from the respectable 4 stars to 4.5. The production is on point, the lyrics are outstanding, the guests did their thing, what more can you ask for? To date, this album has moved 178,608 copies, so this was VERY slept on back in 2009, and in a culture where autotune was hot at the time (the "ratcheted" era, if you will, hadn't yet reared its ugly head), among other things, this and other dope albums that year fell under the radar. Unfortunate indeed. Overall, this is an excellent album, and even with the lukewarm response and sales, Meth and Red have nothing to be ashamed of, and I hope we eventually get "Blackout 3".
We close out the Redman project with part 8, which will be 2010's "Reggie". That should be interesting.