Recently I was listening to "Ladies Night", a very good song from the soundtrack of the 1997 film "Nothing To Lose", featuring Lil Kim, Angie Martinez, Left Eye (RIP), Missy Elliott, and Da Brat. That song served as an inspiration for this post. At one point, circa 1996-1997, Lil Kim and Foxy Brown were two of the biggest femcees in hip hop, and for better or worse, they essentially changed the way female artists looked and rapped, especially Kim. What I'll be discussing in this post is a sort of comparison with their careers, as well as additional thoughts, and in an era where the only association most people have with "female hip hop" is Nicki Minaj, it's never a problem to go back in time and take a look at the last evolution of the female MC.
The First Verse
Wow, I have to admit, this picture right here brings back memories, but before I get into that, I want to talk about when I first heard Kim, and that was obviously Junior Mafia's "Player's Anthem". Her verse on that song was tight, probably the second best verse of her career. At the time I didn't think she was going to release a solo album honestly, but in 1996, when I found out she was going to release her solo debut, I was happy with the news. Then I saw this photo above, and, whew, the anticipation grew! My jaws literally dropped when I saw this photo, which promoted her "Hardcore" debut in a major way, and it was very popular talk amongst myself and my fellow homeboys at the time. Nicki Minaj may have been inspired by this photo in later years, but make no mistake about it, hers has nothing on the original. More on the "Hardcore" album in a bit.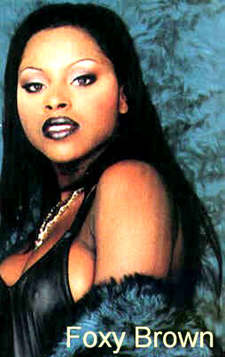 In 1995, LL Cool J's "I Shot Ya" remix is when I first heard Foxy, and she delivered a good verse alongside LL, Prodigy, Keith Murray, and Fat Joe. Heading into 1996, the buzz was on (much like Kim at the time), especially after guest spots such as Nas' "Affirmative Action" (math issues at the end of her verse aside, lol) and Jay-Z's "Ain't No N****", and my reaction to the announcement of her debut album was the same as my reaction was to Kim's, in that my anticipation was high.

The Albums
Want to know something I don't think I've ever revealed until now? Well, way back in the day, I did have a major cassette collection, and in the early part of 1996, I begin my collection of CDs, and although I got a good number of CDs at the time through various "hookups" and "trades", Kim's debut was the actual first album I bought with my own money, and I did cop it the week it came out, Friday, November 15th. I'm not sure what I was expecting going into the album, I just knew I was going to like it, and the photos on the inside were definitely easy on the eyes. After the intro, it all started with the Jay-Z assisted "Big Momma Thang", and that first verse of Kim's REALLY set things off, as she put a lot of things out there in a fairly explicit way, didn't complain though! Hit songs like "No Time" and the "Crush On You" remix (which inexplicably was NOT on this album) hold such a strong nostalgic vibe with me, especially heading into 1997, the year of my best summer ever. Additional songs I like on this album are "Drugs", "Queen B****" (both featured and were penned by the late great Notorious BIG), and "Spend a Little Doe". When it comes to hype, promotion, sales, and memorable singles, "Hardcore" is undoubtedly Kim's finest album, no question.
Rating- 4 stars
Favorite song- Big Momma Thang (featuring Jay-Z)

Even with my CD collection in the midst of beginning, I did first buy this on cassette, before buying the CD a few weeks later. Much like Kim's debut, I didn't know what to expect going in other than I knew I was going to like the album. Man, when it comes to nostalgia, MOST of the songs on this album are strong in that regard, specifically "I'll Be" (featuring Jay-Z), "Get Me Home" (featuring Blackstreet), "Foxy's Bells" (of course it doesn't hold a candle to LL's classic "Rock The Bells", but for a remake, it got the job done at the time), "Da Promise" (featuring Havoc of Mobb Deep), "I'll Be", and "The Chase", which was often on repeat. Overall, I was satisfied with it, and I plan to revisit it this year.
Rating- 3.5 stars
Favorite song: The Chase
Overall view: Both albums hold a strong nostalgic vibe with me. It's clear that both albums are their best (not to mention being released a week apart, Kim's on 11/12/96 and Foxy's on 11/19/96), as they were already at the peak of their careers and creativity. The buzz was strong and the key singles were indeed hits. In the end, I'll take Kim's debut over Foxy's.

My actual first time hearing this album was about 2 weeks ago (as of this post) via Spotify, and I thought it was decent. The title was, as Kim stated, was a "memorial" to The Notorious BIG, and considering their relationship prior to his passing, fan of Kim or not, you had to respect that. While it was a step down from "Hardcore", it was relatively decent in spots, with three highlights being the opener "Lil Drummer Boy" (featuring Redman and Cee-Lo), "Queen B**** Part 2" (featuring Puff Daddy), and "Who's Number One?"
Rating- About 3 stars
Favorite song- Who's Number One

I did own this back in 1999 (no longer do), but I felt it was ok, nothing more. "Hot Spot" definitely takes me back to the summer of 99. One thing I can say about this album is that she got a list of who's who in terms of who was hot at the moment, Jay-Z, DMX, Beanie Sigel, Memphis Bleek, Noreaga, even Juvenile, to name a few. She also did another remake, this time covering Salt N Pepa's "Tramp", and again, while it doesn't hold a candle to the original, she did well.
Rating- About 3 stars here also
Favorite song- Hot Spot
Overall: Most fans would (and probably still do) consider these albums "sophomore jinxs", as they were nowhere near the level of hype and quality of their debuts, albeit still successful. By a hair, I'll go with "Chyna Doll" on this one.

I was close to checking this out in 2003 when it was released, but I didn't get around to doing it until 2 weeks ago, which was after I Spotified "The Notorious Kim". Although the album has a few decent songs throughout, the highlight here is the Timbaland produced, Mr. Cheeks featured "The Jump Off", and a lot of us are still wondering just how the hell she can "make a Sprite can disappear in her mouth".
Rating- Between 3 and 3.5 stars
Favorite song- The Jump Off (featuring Mr. Cheeks)

I did previously own this is 2001, and I'll tell you one thing, I do remember really liking this album at the time, and I felt it was her most personal album yet. The production was largely on point and lyrically it was on par with, if not better than, "The Ill Na Na", especially on "The B.K. Anthem" and the reggae fused "Oh Yeah" (featuring Spragga Benz). Although those two songs made a little noise in 2001, overall this album largely fell on deaf ears at the time, and I actually would recommend this if you never heard it before.
Rating- Probably 3.5 stars
Favorite song-
Overall- Hands down, "Broken Silence" is a better album than "La Bella Mafia" in my humble opinion.

This album is remembered for two reasons: 1) it was released the same day Kim was sentenced to jail for perjury and 2) it was inexplicably given 5 mics in The Source. And yep, I also Spotified this 2 weeks ago after her second and third albums, respectively, and I kinda liked it a little more than "La Bella Mafia". The Scott Storch produced banger "Lighters Up" is one of her best songs, however, my joint here is "Whoa", and although Kim was lyrically in top form, the beat to this song KNOCKS, seriously, and I recommend you check it out if you haven't heard it, even if you just listen to the instrumental. As you listen to this album, it's almost like Kim was really focused, as if she knew she had to make a musical statement prior to her jail sentence, still not a 5 star album though.
Rating- Between 3.5 and yes, 4 stars
Favorite song- Whoa

This was dubbed as a "street album", with 2001's "Broken Silence" her last true studio album. It doesn't break any new ground per se (still the same ol Foxy), but two standouts here are "Too Real" and the banger "Bulletproof Love/One Love", which probably weren't heard at the time of its 2008 release.
Rating- 2 stars, largely attributed to the two aforementioned songs
Favorite song- Bulletproof Love/One Love
Overall: "The Naked Truth" is the clear winner here.
Total- 2-2 with no clear winner, wasn't expecting that one.
Kim & Foxy's best verse ever??
I have always picked the following song as the one that has Kim's best verse, and I stand by that pick to this day. She flowed WELL here.

Whether she wrote it or not is irrelevant, as this is clearly Foxy's best verse.
Kim and Foxy have went through various changes since the peak of their careers, especially in reference to their appearance (in Kim's case), but there hasn't been another time in hip hop where two femcees, who were closely linked, took the world by storm, basically at the same time, while being championed by the likes of Nas, Jay-Z, and The Notorious BIG in the process, and we'll likely never see it again, not even from themselves. And like I mentioned in the introduction, for better or worse they changed everything regarding the femcees role in hip hop, but in the meantime, I salute them for their contributions.