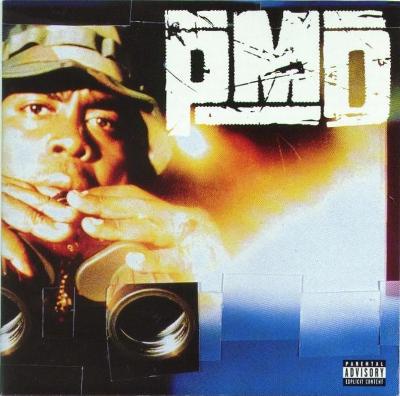 This should be interesting right here. Months ago, I did mention that this was the worst album in my collection, lol. Today, I pulled a single from the vault (Leave Your Style Cramped), and it was good, slightly better than I remembered, and of course that led to a revisit! A little bit of background first. Parrish "PMD" Smith is best known for his contributions with Erick Sermon as one half of the legendary duo EPMD. After 1992's "Business Never Personal", they shocked the hip hop world when they split up, and from there, they embarked on solo careers, and it's well known that they were less successful without each other, although Erick fared pretty well with his production. PMD's solo debut, 1993's "Shade Business" was as unfocused as them come. He sounded like he was trying to be a little too hard, and what resulted was a completely forgettable album. Over the next few years he focused mostly on the Hit Squad names, notably Das Efx, and in 1996, this album was released, almost without warning. Has it got better with time or not? We shall see. (And I also feel I may be the first person to actually review this album!)
Intro
We begin things with the standard intro, essentially saying PMD's been gone for a while and now he's back. The beat in the background is good, kinda gets you amped for the rest of the album.
Business Is Business (Produced By: Angel "8-Off" Aguilar)
The joint begins with an unmistakable sample from the CLASSIC movie "Scarface", and it continues throughout the song. PMD compliments 8-Off's bass heavy track. In what could've interpreted as a subtle shot at Erick, towards the end of the last verse, he says "you know my steez, four golds, EPMD/F*** the break up, I'm gettin mines gee". Business is business indeed. 3 out of 5
Leave Your Style Cramped (Produced By: Charlie Morotta)
Ha, the cut from the vault! Short but effective in its own way, not to mention dope. 3 out of 5
Rugged-N-Raw (Produced By: Angel "8-Off" Aguilar)
I remember seeing this video one time on Rap City back in 96, and that was it. In the early goings of this album, you hear a slight hunger in P that you simply didn't get on "Shade Business". 3 out of 5
What Cha Gonna Do featuring Das Efx (Produced By: Solid Scheme)
Solid Scheme was behind a good number of classics by Das Efx, and he drops a very good track here. You could've heard something like this one on Das' third album "Hold It Down", and they sort of own this song too. 3 out of 5
Never Watered Down featuring Nocturnal, Additional vocals by Das Efx (Produced By: Angel "8-Off" Aguilar)
Outside of this song, an appearance on EPMD's "Back In Business", and a freestyle on Funkmaster Flex's mixtape Volume 2, Nocturnal didn't really do much of note, although he showed a little potential. This was basically a solo showcase for him, and it's decent, nothing spectacular though. 3 out of 5
It's The Pee (Produced By: Solid Scheme)
Not sure why it wasn't included on this album, but there was a remix of this one with Prodigy of Mobb Deep. Solid Scheme brings another tight beat (almost begging for verses from Das Efx), but P does good for dolo. 3 out of 5
Koot Kat (Produced By: Charlie Morotta)
If you listen closely, it sounds like there's a Jay-Z sample in the background, and for the life of me I couldn't determine which song it came from, but my guess would be something from "Reasonable Doubt". We get some storytelling from P, all in the name of being a "kool kat". 2.5 out of 5
Interlude
Not sure who was the voice on this interlude, but let's keep it moving.
It's The Ones featuring M.O.P. (Produced By: Fabian Hamilton)
Over a dope beat and a memorable Biggie sample from the classic "Warning", PMD sounds inspired along side M.O.P., but then again, if M.O.P. can't bring out ANY aggression in you on the mic, you're useless. This is likely the best song on the album. 3.5 out of 5
Nuttin Move featuring Das Efx (Produced By: DJ Scratch)
DJ Scratch would carry this sound into 97, especially on Busta Rhymes and EPMD's albums from that year. Das Efx is of course at home on this one, almost completely stealing the show from P. 3 out of 5
I'm A B-Boy (Produced By: DJ Scratch)
And yes, the familiar Sticky Fingaz opening line from "Slam" is part of the sample here, and it's utilized pretty well. Decent stuff here. 3 out of 5
Rugged-N-Raw featuring Das Efx (Produced By: Angel "8-Off" Aguilar)
Not sure why this wasn't listed as a remix, because that's exactly what it is. It's more or less on par with the original, even with the assistance from Das. 3 out of 5
Wow, with the exception of two songs, this album has straight 3 out of 5 ratings for most of the songs, and that's not too bad I guess. I can honestly say it's slightly better than what I remembered, but respectively that's not saying a lot at all. This album was also released in a STACKED 1996, so it quickly fell under the radar, as PMD was sadly a nonfactor in hip hop (even with the EPMD legacy) until he reunited with Erick the next year. I also recall The Source magazine giving this album a 2 1/2 mic rating in one of their 96 issues. Overall, this was an ok album, nothing spectacular; it's worlds better than "Shade Business". Lyrically P doesn't break new ground, however, it is the best of his solo efforts. And it's NOT the worst album in my collection!
3 stars