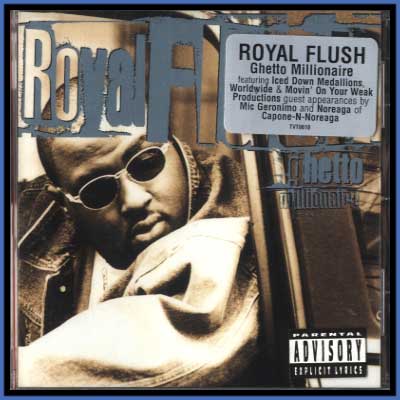 I have a very interesting story about this album indeed. Back in 97, I was on the verge of buying this album, but I sadly never got the chance to do so. Fast forward to 2012, and I FINALLY was able to add this to the collection a few months ago! I still can't believe it took me THIS long, but when it comes to the music, it's all good!
Royal Flush, much like Mic Geronimo, another artist I will touch on in another post, was severly underrated and should've seen much more success than he received. On his debut, "Ghetto Millionaire", he did a sound job crafting an album full of hard & lavish rhymes backed by a great list of producers. Two of the immediate highlights on this album are "Iced Down Medallions" (featuring Noreaga) and "Movin On Ya Weak Production".
Why I feel it's forgotten
Lack of promotion is usually one of the first things when discussing an album like this, and that's the case here. Plus, outside of making a little noise with "Iced Down Medallions" with Noreaga (who with Capone released the excellent "War Report" album that same year), I don't think many knew this album was out, aside from those who faithfully read The Source and Rap Pages magazines, respectively, kept up with the underground, and followed Flush.
Rating- 4 stars