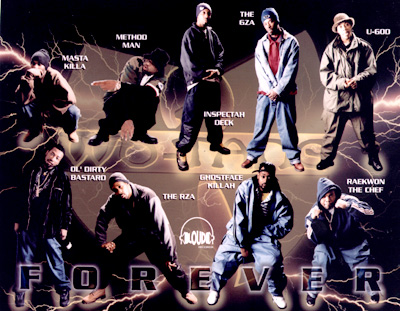 "The RZA, The GZA, Ol Dirty Bastard, Inspectah Deck, U-God, Ghostface Killah, Method Man, Raekwon the Chef, the Masta Killa!!!!!"
That line right there was coined by RZA before the start of "Clan In Da Front" on the Wu's debut "Enter The Wu-Tang (36 Chambers)", and after this debut, the rest was history. When I'm asked who is your favorite group, it's unanimously always been the Wu-Tang Clan. Lyrics, production, the style, the trendsetting, creativity, influence, STRONG nostalgia, you name it, these are multiple reasons why they
will always be my favorite group.
My favorite member of the group has changed over the years. Largely based on his classic "Bring The Pain", my first favorite around that time was Meth, no doubt. With one of the smoothest flows ever, you can listen to a song like "Method Man" and tell he was going to be the "star" of the clan. Next, around the time "Wu-Tang Forever" dropped in 1997 (and MORE on that album later), Raekwon became my favorite member, then THAT changed too years later, and at this point, Ghostface is my favorite member, especially on a consistency level.
When it's all said and done in this world, the Wu-Tang Clan will definitely go down as the greatest group of all time. MUCH props and respect go to other groups, such as Public Enemy, N.W.A., De La Soul, A Tribe Called, Smif N Wessun, Mobb Deep, Outkast, UGK, etc, as they (and others) have certainly made their mark in hip hop, but none bigger and more impactful than the Wu-Tang Clan!!!!!
And yes, I gotta go through their discography too!!!!
5 favorite songs- CREAM, Protect Ya Neck, Bring Da Ruckus, Da Mystery Of Chessboxin, & Can It Be All So Simple
Wayne's Words- #5hell of a debut from my favorite group of all time. Classics up and down the lineup. This is one of many albums that's credited with the "East Coast Renaissance" in the early 1990s.
Personal facts
*I also owned a "dubbed copy" of this album, and I had it for a while too.
*I bought this album twice.

5 favorite songs on disc 1- For Heaven's Sake, Cash Still Rules/Scary Hours (still don't nothing move but the money), It'z Yourz, & A Better Tomorrow
5 favorite songs on disc 2- Triumph, Hellz Wind Staff, Impossible, Deadly Melody, & Duck Seazon
Wayne's Words- Man, I LOVE this album right here, almost as much as I love 36 Chambers. And much like that album, Wu-Tang Forever carries a STRONG nostalgic vibe with me (I played this frequently during the summer of 97, which still remains my best summer ever), and in addition to The Notorious BIG's "Life After Death" (another double album), this was one of my most anticipated albums in 1997 and when I bought it (along with Camp Lo's "Uptown Saturday Night" on June 28, 1997), I was EXTREMELY happy and definitely NOT disappointed. Oh yeah, I have (and will continue to) respectively disagree with anyone who says this album would've been better as a single disc album. This is one double album that more than justified its size.
Rating- 4.5 stars (Oh man, to this day, as much as I like this album, I can't quite give it 5 stars. Why??? Well, had it not been for songs such as "Maria", "Black Shampoo", and "The Second Coming", this would be an automatic 5 stars no question. I'm not saying those songs are wack, they just interrupt the vibe a little bit, but I'll tell you one thing, this rating MAY change at some point.)
Personal fact
*I bought this album 3 times.
5 favorite songs- Chamber Music, Hollow Bones, Let My N*****, Protect Ya Neck (The Jump Off), & Careful (Click Click)
Wayne's Words- Hugely slept on when it came out, but don't forget, RZA did say at the end of "Bellz Of War" that the next Wu album wasn't coming out till 2000, so I do commend them for sticking with that. Overall, this was a very good album, they're most underrated.
Rating- 4 stars
5 favorite songs- Uzi (Pinky Ring), Soul Power (Black Jungle, Y'all Been Warned, Rules, & In The Hood
Wayne's Words- Well, 2001 wasn't one of the Wu's most creative periods, but it still was a decent album. Not their best, but they were certainly capable of more.
Rating- 3.5 stars
5 favorite songs- Take It Back, Life Changes, The Heart Gently Weaps, Campfire, & Get Them Out Ya Way Pa
Wayne's Words- Creative and artistic disagreements were almost at the epicenter of this album, and when listening to it, it shows. Outside of a few good songs, it's disappointing to say the very least, and I usually don't like to associate disappointment with the Wu-Tang Clan. "Life Changes" is definitely the highlight of this album, a VERY moving tribute to the late great Ol Dirty Bastard.
Rating- about 3 stars